With the addition of widget-like tiles that display information from photos, notes, mail and other sources, Apple has redesigned iCloud.com to give the website a significantly more contemporary look (via MacRumors). For anyone who often needs to access their iCloud data from a browser rather than an app on an iPhone or Mac. This revamp should be a welcome upgrade from the previous version of the site that displayed a few icons which served as links to web apps.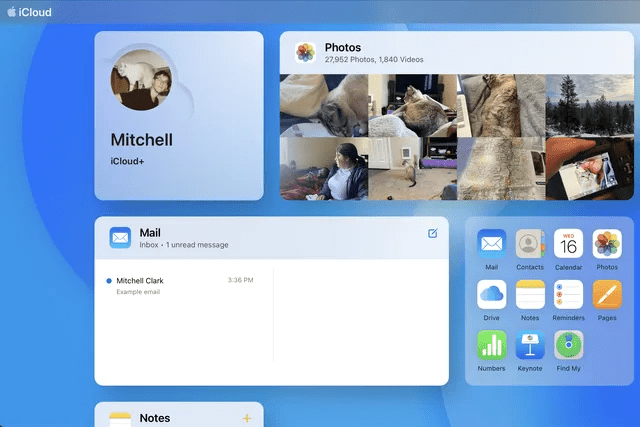 You can customize your iCloud.com homepage with the new design, which was made available to beta testers last month. You can add tiles that show your latest photos, emails, documents, calendar events, notes, and more. If you click the tick circle next to a reminder, you'll just be redirected to the Reminders web app, just like with most iOS widgets, so if you want to do something with that information. So, you will need to open the applications. The reminder you clicked on will show you where the list is located, but to fully mark the process while the online app is running, you'll need to click the circle again.
Even so, it's easy to be able to quickly see some important information and have some control over what information appears prominently on the home page.
The PCMag article gives a good picture of how they used to appear. The pages that allow you to adjust your iCloud account settings from the browser have also received a new look.
I haven't seen any new features on the site that significantly increase what you can get from it. iCloud versions of programs like Pages and Numbers receive updates on their own schedule and largely retain their previous usage. However, for someone who often needs to use such online apps, using them through iCloud.com should suddenly be a little more pleasant.

How is your
website's SEO?
Use our free tool to get your score calculated in under 60 seconds