This year made me learn not to question the worth and power of technology or digitalization. You must have skills for handling technology and things associated with it. More specifically, learn how to operate a website, and how you can take your business to heights with it. How it can benefit you? You will be able to understand and cater to customers' needs by improving your digital performance. What if you have the right analytics technology to make strategic decisions so that you can achieve your goals and objectives?
Although there are many I will put forward the two most widely used analytics tools i.e. Google Analytics (GA) and Adobe Analytics (AA). Let's figure out the differences between them.
Get To Know The Differences Between Adobe Analytics vs Google Analytics
Google Analytics: An Introduction

If I were to name only the top web analytics platform, I would have said Google Analytics. It lets the company know about its customer's latest interests and monitor how users interact with your site. There are two versions of Google Analytics. You are already aware of this free version known as Google Analytics 4 (GA4). And the other is Google Analytics 360 (GA360) which is used by large companies. Its features are more advanced than GA4 and so is the premium version.
Adobe Analytics: An Introduction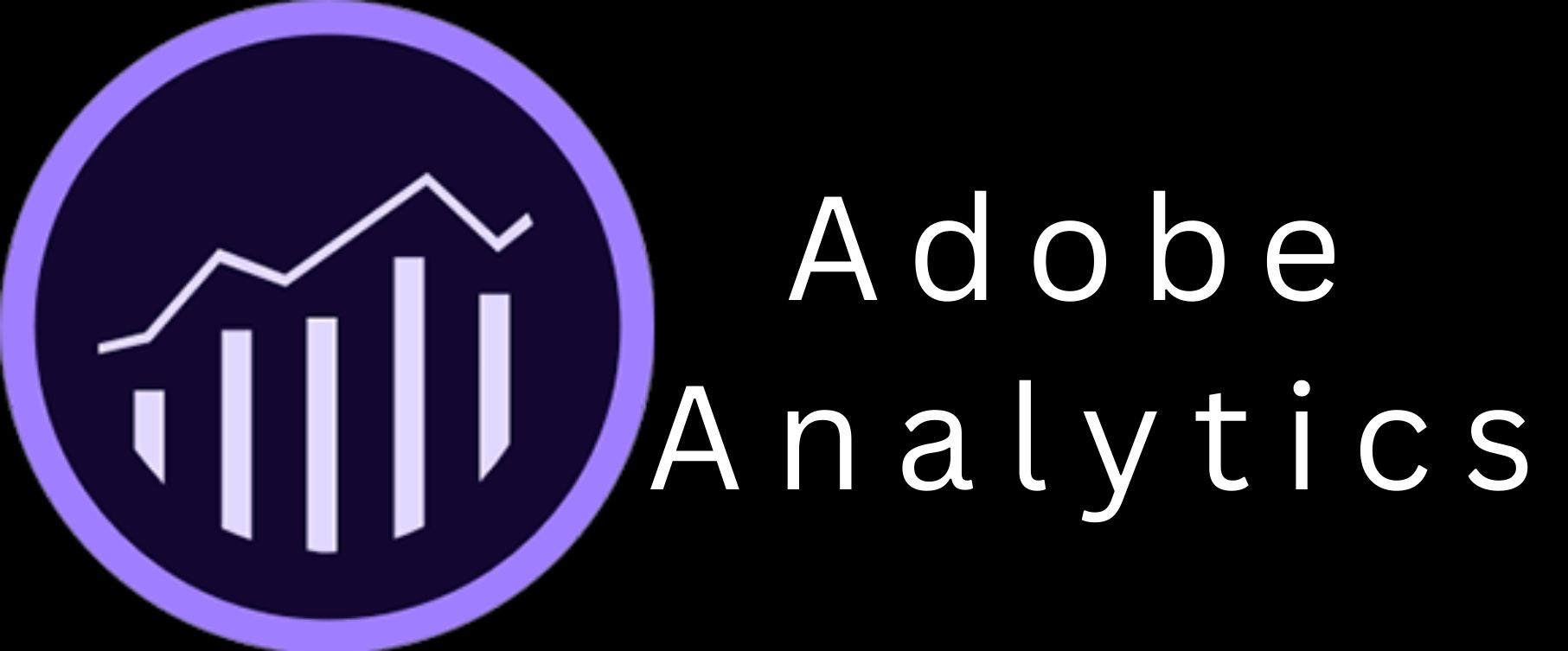 Adobe Analytics can collect large data from many different channels. It is designed to make the user experience better across all devices and measure the performance of the website. This tells us that it is more advanced than Google Analytics.
Select, Prime, and Ultimate are three packages or levels. The purpose of each level is to meet the set of needs of customers. It helps companies to target the niche market and make use of real-time data to improve their efforts within many platforms. This has clearly shown that machine learning and AI are way too far from what we have imagined.
Adobe Analytics vs. Google Analytics
Website Viewers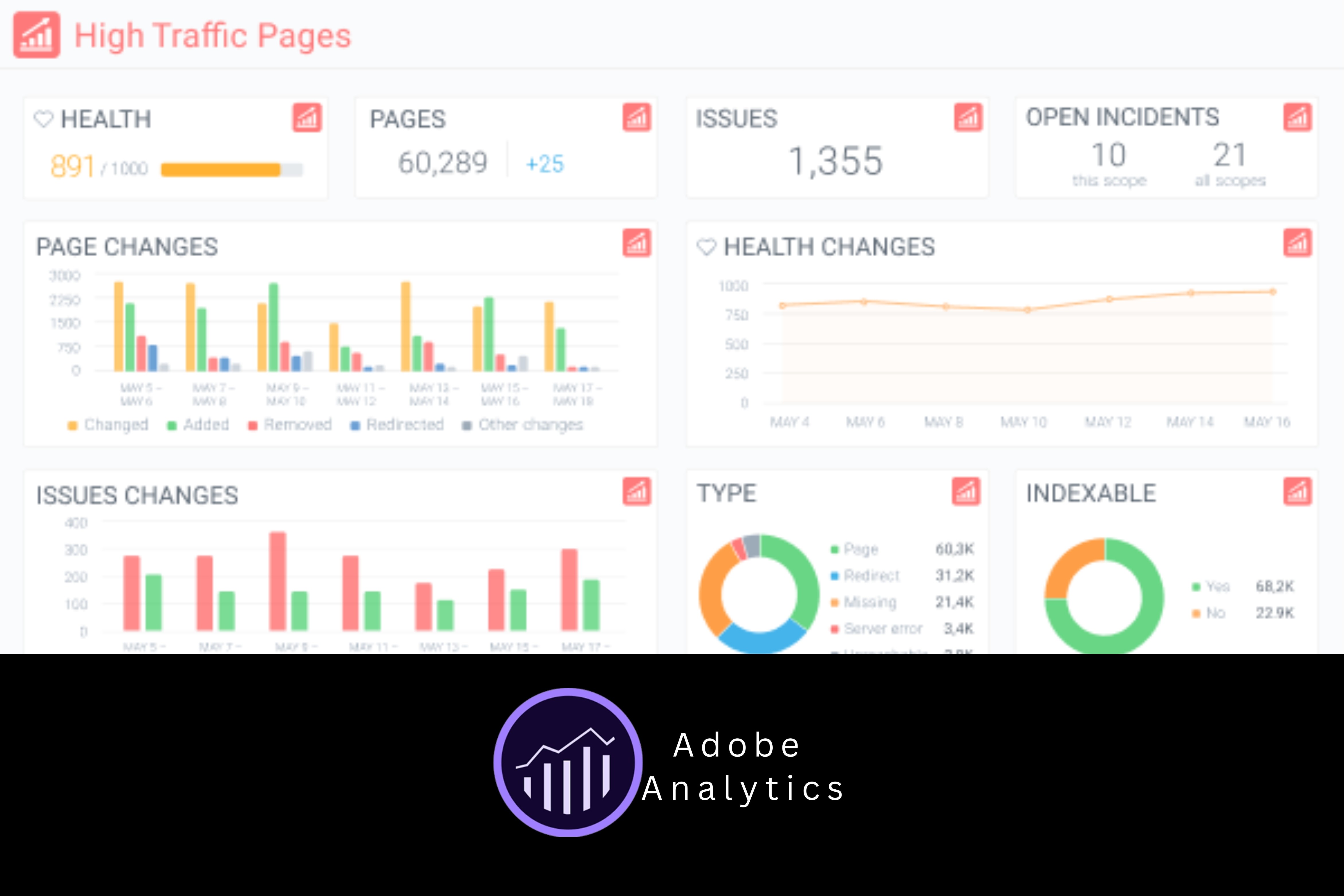 This is clear that the purpose of these tools is to know how many people visit a site. Both the analytical tools can tell where the website user has come from. This information is the need of the company to improve customer experience. Companies get to know these important details including
In-depth information on user's behavior
The rate at which people leave your site
Acquisition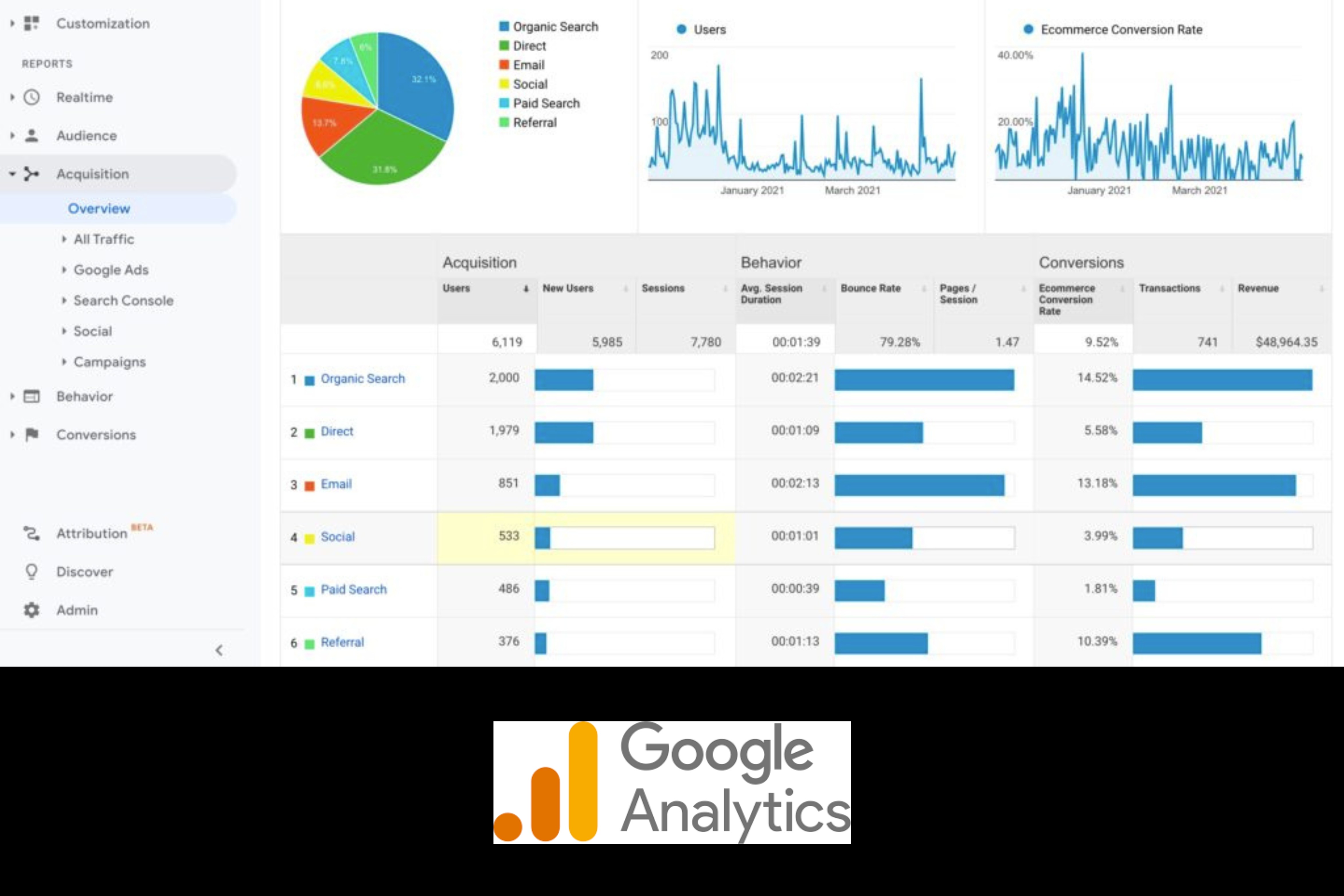 But how you may differentiate? With the GA tool, the way to analyze traffic is how well your paid advertising campaigns are working. While, with AA tool you can analyze traffic by processing and collecting data from multiple channels.
What's better? Both can effectively report on website's traffic.
Ease of use User-Friendliness
It's quite simple and uncomplicated to use GA's user interface. With a few selections only, you can come up kind of information that will be supplied. The menu can further be divided to find the data you need for a certain report.
To get the most out of AA, you need to understand how it gathers and presents data. Without the right training, you might mess things up as it is hard to understand for the new user. It is because AA has flexible tables which differ from business to business. This flexibility makes it even more complicated. Moreover, you need to completely understand the AA system to know about custom eVars" and "sProps"
What's better? You might have already guessed. GA has more advantages than AA in this case, especially for beginners.
Implementation: How To Set Up
There are two ways to apply GA standard tracking simply and quickly:
Use a Google Tag Manager.
Or add a JavaScript snippet to the HTML on all of the pages of your website.
It's not an easy task to set up AA and requires an expert anyway. Launching AA requires the use of Adobe Launch (Adobe's TMS). Some other enterprise-level TMS will only make things harder for you. In Google Analytics, things are easier for you as basic measures and dimensions are collected immediately through a tag. It is different in the case of AA. Custom variables are needed to pass all of a website's key performance indicators.
What's better? GA is not going to give you a tough time so it is preferable.
Model of Attribution
It is about giving value to each contact a customer has with a business on the way to making a purchase. Let me provide you with the simplest example:
A buyer finds out about your goods on any social media platform and then makes a decision to buy them from your site.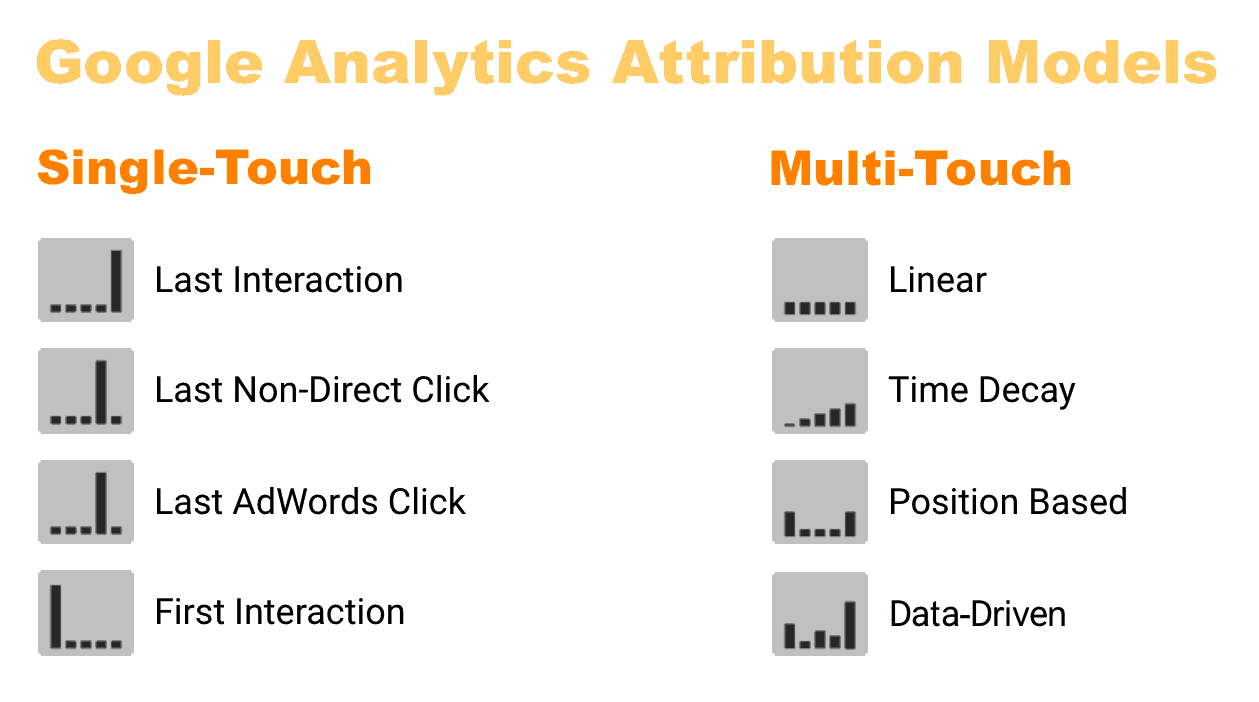 GA lets you use multi-channel flows to identify and track different ways to conversion. However, there are some functions (like the ROI analysis) GA360 is blessed with. Combine online and outdoor behavior and then link it to certain people to know about user's experience across all devices and platforms. GA's 'Model Comparison' features; you can compare the marketing platforms. By using the tool's six credit models, and GA's 'Model Comparison' feature, the marketing platforms can be compared.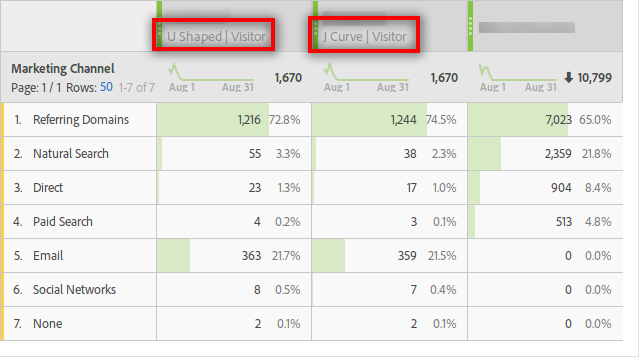 AA has nine different attribution models that can also be customized to meet your needs. The Attribution IQ tool can help you to do an in-depth study with the estimated measures it provides. You can also compare different kinds of attribution models by taking away the First Touch from the Last Touch.
What's better? Here AA takes the lead with its advanced features. You get a quick, clear picture of the situation.
Building Reports
GA comes with great reports that are already set up and can be used to track how well a website works, how customers use it, how engaged they are, and other data. Data Studio is a great choice if you are willing to obtain a bigger picture.
Adobe already has a set of tools built for advanced analysis or graphics. With these tools, you can make your custom report. This shows that AA is a full analytics tool while GA is just a reporting tool. Adobe Sensei is an AI program. It combines predictive algorithms, built-in statistics, and machine learning to give researchers and marketers access to data science tools. Similarly, it has become easier to share information with the MS Excel plugin tool and the drag-and-drop function. Now businesses can share reports without giving out confidential information. But, it takes time and knowledge to learn how to use them well. Its usefulness cannot be denied.
What's better? AA is far more capable and has better sharing tools than GA.
Analysis of Pathing & Funnels
With AA Flow chart features, the picture of the AA paths report is clear and easy to understand. The report illustrates what people did before and after clicking on a site.You just need to click on any of the trail's touchpoints.
When we talk of GA, it has not reached to this level yet. It does not have smooth path analysis like AA. And it also prevents you from seeing customers' free flow.
What's better? It's obvious, Adobe Analytics.
Custom Dimensions and Metrics
Abobe Analytics

Google Analytics

You can easily send the custom data GA via custom dimensions and metrics. Custom metrics and dimensions differ in a way that one has values in time, currency, and numbers, while hit, product, session, or user, fall into the category of latter.
What's better? There is no winner in this case because it totally relies on the number of KPIs businesses want to track. Any analytics program for large businesses must have the flexibility to adapt to different wants and problems. Both GA and AA are easy to change, so they can be used for a wide range of tracking tasks.
Pricing
Small and medium-sized businesses have GA4 which has a limit of 10 million hits per month, which is an ideal; choice for them. Whereas, GA360, is a membership service that comes with a Service Level Agreement (SLA) and gives access to expert support staff. Moreover, they are provided with data gathering, data freshness, data reports, and more data processing power. Rates typically amount to $150,000 per year.
The average price of AA could be as high as $200,000 per year. It also depends on how much it is used. There is no free version of the product, but three different packages are offered and you can choose from them based on your wants and tastes.
What's better? GA360 and AA are used by the largest businesses only. It depends on the needs of each company to decide which version is much better. So, in this particular case, GA4 is the clear winner for SMEs.
Data Storage
If we compare, AA keeps customer information forever whereas GA4 keeps it for 14 months only. If we talk about GA360, it keeps it for 50 months. Cookies can be retained in GA for a month while AA can retain cookies for about 15 years or more. This implies that businesses using AA can pay attention to customers for longer periods.
What's better? AA clearly wins it.
Integration
For A/B testing and ad integration, Adobe Target and Adobe Advertising Cloud can be used with AA
Examples of AA integration are:
Adobe Campaign
Adobe Experience Manager
Customer Journey Analytics
Uploading data through FTP methods manually takes some work on the part of the marketer to explain the expected measurements and figure out the campaign's return on investment. Several data connections in Adobe allow tracking information from other programs to be added to analytics. The collection of data and analyzing it has become much easier with this.
In the case of GA, Google Optimize is linked to it for A/B testing. Google Analytics also works with the rest of the Google stack, like Google Ads and BigQuery. With Salesforce and other customer relationship management (CRM) tools, Google Analytics can be integrated with. This gives a unified view of all contacts with customers.
What's better? GA serves as the best choice if you are using it for marketing purposes. Go for AA, if you planning on integrating performance-based technologies like A/B testing, heat mapping, and others.
Quick Overview of Adobe Analytics Workspace
Quick Overview of Google Analytics Workspace
Conclusion
It is not an easy decision to find the right tool for your company. Before making a decision, ponder over the company's goals, the knowledge you have, your affordability, the other tools you have, and the capabilities of your team. GA is recommended for small businesses and new businesses because of their limited budget. On the other hand, large companies can afford AA so it's better to go for it.
How is your
website's SEO?
Use our free tool to get your score calculated in under 60 seconds