I recently had the pleasure of getting my hands on the highly anticipated 15-inch MacBook Air, and let me tell you, it has left me in awe. From its expansive 15.3-inch Liquid Retina display to the extraordinary performance delivered by the M2 chip, this laptop exemplifies excellence in every aspect. Allow me to accompany you on a journey through the remarkable features that position the 15-inch MacBook Air as the ultimate choice for tech enthusiasts and professionals alike.
Let's commence with its exceptional design. The fresh MacBook Air establishes an unparalleled benchmark for portability and sophistication. Its mere 11.5mm thinness earns it the prestigious title of the world's slimmest 15-inch laptop, bestowing its exquisite sleekness and featherlight quality. Weighing in at a mere 3.3 pounds, it is a testament to groundbreaking engineering. Despite its slender frame, the MacBook Air maintains an unwavering commitment to durability. The meticulous attention to solid construction and fine details assures me that this laptop is engineered to endure the rigors of everyday use.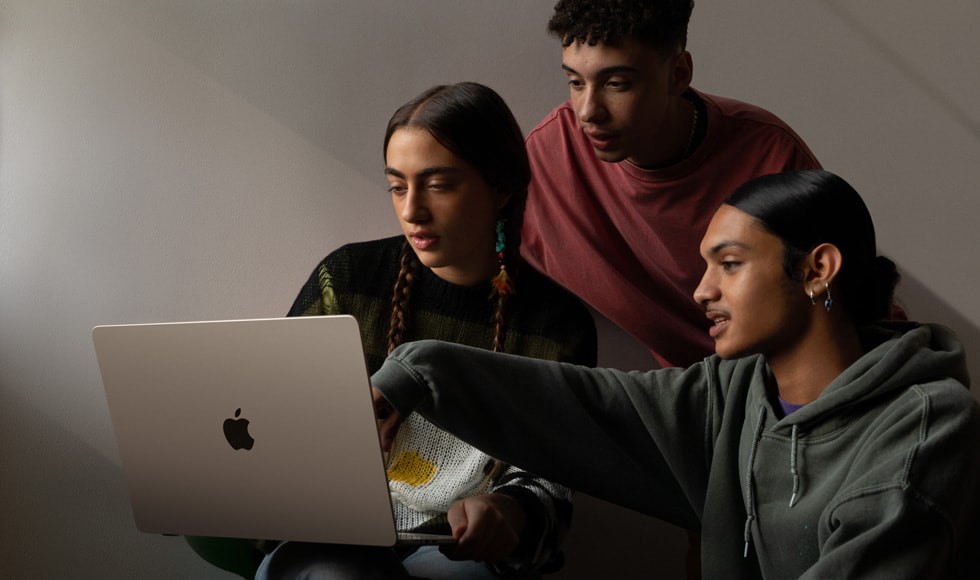 Image Source: Apple
Now, let us delve into the very core of the 15-inch MacBook Air – its unrivaled performance. Powered by the revolutionary M2 chip, this laptop unleashes a torrent of unmatched speed and power. To my astonishment, it operates up to 12 times faster than the swiftest Intel-based MacBook Air, a testament to the colossal capabilities of Apple's in-house chip technology. When pitted against the leading 15-inch PC laptop boasting a Core i7 processor, the MacBook Air emerges victorious with double the speed. Whether multitasking, video editing, or running resource-intensive applications, the 15-inch MacBook Air gracefully tackles every task with exceptional efficiency.
But performance isn't the only area where the MacBook Air excels. The battery life on this machine is truly outstanding. With up to 18 hours of usage on a single charge, I no longer worry about running out of power during a busy day. Even with its brilliant 15.3-inch display and the demanding tasks I throw at it, the MacBook Air's battery life exceeds expectations. It's a game-changer for professionals on the go, providing uninterrupted productivity without needing constant charging or carrying around bulky adapters.
Speaking of the display, the 15.3-inch Liquid Retina screen is a sight to behold. The breathtaking visuals are vibrant colors, sharp details, and deep blacks. Whether I'm editing photos, watching movies, or immersing myself in the latest games, the MacBook Air's display elevates the visual experience to a whole new level. It's perfect for content creators, designers, and anyone who appreciates the beauty of stunning visuals.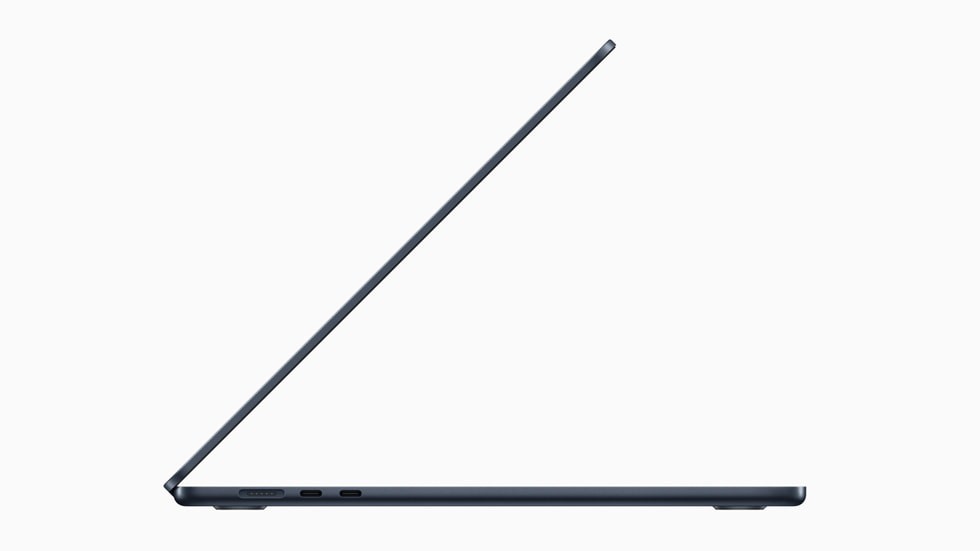 Image Source: Apple
The 15-inch MacBook Air also boasts impressive audio capabilities. The six-speaker sound system delivers immersive and high-quality audio, bringing music, movies, and video calls to life. Additionally, the 1080p FaceTime HD camera ensures that video conferences are crystal clear and professional, allowing me to stay connected with colleagues and loved ones in remarkable detail. It's a testament to Apple's commitment to providing an immersive audiovisual experience.
One aspect that sets the MacBook Air apart from the competition is the inclusion of MagSafe charging. This magnetic charging connector ensures a secure and effortless connection, eliminating the worry of accidental cable pulls and potential damage. It's a small but significant feature that enhances the overall user experience.
Let's not forget the operating system that powers the MacBook Air –macOS Ventura. This latest iteration of macOS takes productivity and convenience to new heights. With improved Messages and Mail applications, I find communicating and staying organized easier than ever. The Safari browser, renowned for its speed, now embraces a passwordless future with passkeys, enhancing security without compromising convenience. Features like Continuity Camera, which brings video conferencing capabilities to the Mac, and Stage Manager, which automatically organizes apps and Windows, enhance my workflow and efficiency. Integrating iCloud Shared Photo Library allows me to effortlessly create and share memories with my family, while the Freeform app provides a flexible canvas for productivity and creativity. Seamlessly working across Mac and iPhone with Continuity features like Handoff, AirDrop, Universal Clipboard, and Messages is a testament to the ecosystem's strength.
If you have no idea about the operating system and how it works so, you should go through the "What is iOS Operating System?"
In the end, my experience with the all-new 15-inch MacBook Air has been nothing short of extraordinary. It redefines what a laptop can be, combining stunning design, unmatched performance, and many innovative features. This laptop is a true game-changer from its world-class Liquid Retina display to the powerhouse M2 chip and exceptional battery life. Whether you're a professional seeking top-notch performance or a first-time Mac customer, the 15-inch MacBook Air is an excellent choice to elevate your computing experience to new heights. Don't miss out on the opportunity to own the world's best 15-inch laptop – order your MacBook Air today and embark on a journey of limitless possibilities.
How is your
website's SEO?
Use our free tool to get your score calculated in under 60 seconds